"Grandma told me not to mess with Ouija boards, so this is the next best thing. The planchette says, 'C-H-I-L-L-I-N-G' and 'E-N-T-H-R-A-L-L-I-N-G'! This is one you cannot miss." — Hunter Shea, Author of The Jersey Devil and Island of the Forbidden
"This is an anthology for readers who love the weird and original. The stories are placed so that the mood and tone of each complements and contrasts in just the right ways to keep you turning pages." — Waylon Jordan at iHorror.com (read the full review)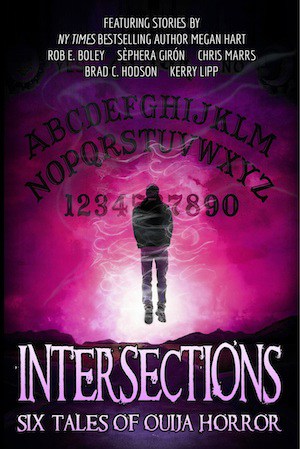 INTERSECTIONS: Six Tales of Ouija Horror

Featuring stories by Megan Hart, Rob E. Boley, Sèphera Girón, Brad C. Hodson, Kerry Lipp, and Chris Marrs
YES
NO
The Ouija Board has long been used as an intersection between our world and the next, a point of connection between the living and the dead. But some questions should remain unanswered, some secrets should stay hidden…and some games should never be played.
Sometimes the dead should be left to rest in peace.
What fate awaits the unwary who dare to tempt the darkness? Find out in INTERSECTIONS: Six Tales of Ouija Horror — an eclectic collection featuring never-before published stories from some of the horror genre's favorite and finest writers.
GOOD BYE
THE STORIES:
GHOSTED by Kerry Lipp
BLOOD BORN by Megan Hart
SOUNDS IN SILENCE by Chris Marrs
GALLOW'S GROVE by Brad C. Hodson
THE NEXT BIG THING by Sèphera Girón
MR. SHADY by Rob E. Boley
Available now exclusively on Amazon: